« Meet the rest of the pack!
Dog Name: Nella
Breed: Portuguese Water Dog
Nella #joinsthepack. She is a four year old Portuguese Water Dog. Nella has a soft, fluffy chocolate colored coat with an incredibly sweet face. She loves people and affection as well and playing with her pack mates. She is very athletic and loves to run and, doing well to live up to her name, takes like a fish to water. The only activity that Nella prefers over playing with her furry friends and swimming is playing ball. She will chase a ball as long as she has a willing partner to toss it for her.
More Posts of Nella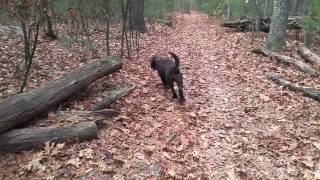 Catch Me if You Can