« Meet the rest of the pack!
Dog Name: Max L
Breed: Chocolate Lab
Max L is a six year old Chocolate Lab. Max has tall legs and a barrel-like strong core. And my gosh, when he wants to be, he certainly is strong. Max has a super happy demeanor, and almost puppy-like way of expressing it. When you arrive at his home, he will grab the nearest toy and run laps throughout the house to show his happiness. Outdoors, Max loves to cruise through the woods with his pack mates and show off his athleticism.
More Posts of Max L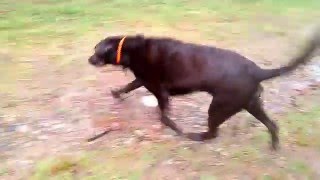 Messy Mud Romp